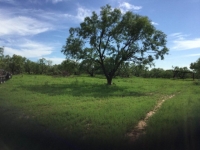 Jerrie is a Texas licensed real estate broker, specializing in hunting properties. There are numerous hunting properties available in the Southwest area of Texas offering opportunities for personal enjoyment or investment.
To contact her requesting specific properties that suit your requirements please email jerrie_woodford@yahoo.com or call and text her at (325)656-2188. You can view proerties across the state of Texas through her website www.jwtexasrealestate.com
Featured Listing:
60 Acre Hunting Ranch, Miles, TX
Located between Miles and Veribest on Switzer Road and sitting next to farm country, this ranch is sweet hunting property! The seller's remodeled the house in 2014, added new cross fence as well as a yard fence, put in a water line supplying Millersview-Doole water to the house, and cleared 10 acres for a food plot. The hunting blind and 2 game feeders convey with propety.
The house has new plumbing, new paint, new stove, newly stained cabinets, new wood-burning stove, propane heat and window unit for air conditioning. Septic was cleaned this past December.
The barn has water & electric, with 110 and 220 wiring. Set of 5 pipe pens beside barn making for excellent facilities or 4-H or FHA projects as well as livestock. Barn has 2 rooms with concrete floors and 2 areas with dirt floor.
Not only have the sellers leared for a food plot, they've spent days this past year clearing pear cactus, allowing for good amounts of grass to grow for grazing.
This property would be a great retreat property for hunting, four-wheeling, riding horses, or simply relaxing andenjoying the quiet country life. Also would be a good starter home for a young family wanting to be out of the city and have a few head of livestock. Use your imagination to fit your dreamsw - this may be your property!
Offered at $276,000., shown by appointment only, call Jerrie Woodford at (325) 656-2188.