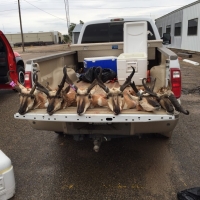 This guided hunt for Pronghorn Antelope has gained in popularity over the last several years. A great hunt to start off your hunting season, these animals are located in wide open pastures where they exercise the use of their outstanding eyesight and have earned their nickname of "speed goats". Horn length 14 inches or greater is considered trophy size with 17 inch horns being the muy grande of Pronghorn Antelope. Although horn length gives a trophy hunter bragging rights, the size of the "shovel" is another matter to consider. The average size of our antelope taken is generally 14-16 inches, with a few of those exceptional 17+ inch animals. Rocky Woodford Outfitting enjoys 100% success rate on our Pronghorn hunts - hunting is fast and furious!
"Hi, Rocky. Talked with Larry this morning about the antelope hunt. Those guys had a great time with you & Steve. Larry and I laughed so hard on the phone this morning that we were both crying. I feel like I missed a great party - wish I had gone along just to watch & listen & maybe even take some video clips to show at future hunting camps!... Glad everyone got a goat - Best personal regards, Keith..P.S. Thanks for working so hard to get those guys their pronghorn."
These hunts are offered with hotel accommodations - meals and lodging are included. These are 2 day hunts.
Our Texas Pronghorn Antelope guided hunts take place in the Panhandle of Texas. This area produces some of the largest Pronghorn Antelope in the nation. These hunts are by permit only. We hunt on several different ranches during this hunt. The price of this hunt is $2,950.00.
Texas non-resident license is $315 and can be purchased online - Click Here to purchase license online.