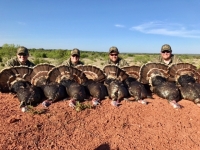 Rocky Woodford Outfitting enjoys large numbers of Rio Grande Turkeys on their properties in Texas. Our birds have been strictly managed and not over-exposed to hunting pressure allowing for good response to calling when conditions are right.
Hunters can choose between different methods of hunting during our Spring Turkey season. One option is to be dropped off in a vicinity known to be well traversed by turkeys traveling to and from a roost area, some of our hunters choose to be dropped off allowing them to walk and call, while still some hunters prefer to hunt over food plots and look at more numbers of birds. Fully guided hunts with a guide calling the turkeys is also an option for the novice turkey hunter.
This is a great hunt for groups and children - a 2-½ day packaged hunt, which includes harvesting 2 gobblers for $1,500.00.
Texas non-resident license is $126.00 adult and $6.00 youth (under 16). Click Here to visit the website for the Texas Parks and Wildlife to purchase your license online.
Click Here for Schedule & Pricing