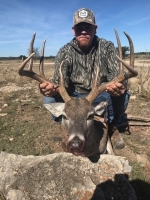 A guided Texas Whitetail Deer hunt with Rocky Woodford Outfitting allows each hunter to experience deer hunting at its finest! These Texas deer hunts are conducted on several large ranches of prime hunting country in southwest Texas. These ranches are strictly managed and consistently produce trophy bucks each season. These are low-fence, free-range animals and are raised on these ranches. A hunter can expect to harvest a deer scoring between 120-160 B&C.
Conscientious and consistent wildlife management practices on our ranches provide for tremendous herds of deer. It is not uncommon for a hunter to see 15-20 bucks in one day. This hunt is great for children and inexperienced hunters because of the amount of deer and wildlife to be seen as well as for the very discriminating trophy hunter looking for that special buck. Although the quality of deer harvested doesn't seem to vary greatly from one hunt to the next, the rut in our area usually runs from mid-November through the 1st week or so of December.

Hunting styles vary during the day consisting of ride hunting, rattling, stand hunting over feeders or food plots, and stalking. A lot of the style or method of hunting will be determined by the time of year and what we know the deer are reacting to. Rattling is a very productive method of hunting for harvesting a trophy buck on our ranches both pre-rut and post-rut. Hunting over food is legal in Texas and we utilize this practice to draw more numbers of deer into your visual area. Stalking is available for the hunter who prefers this method and ride hunting is especially preferred by our hunters with limited physical capabilities - or those hunters who just love seeing lots of game!
This is a 3 day packaged hunt for $3,750.00.
Our hunting schedule has hunters arriving on Friday, hunting Saturday through Monday, and departing on Tuesday.
Non-resident license fee is currently $315.00 adult and $6.00 youth (under 16). Click Here or go to Rocky Woodford Outfitting Links Page to visit the website for the Texas Parks and Wildlife to purchase your license online.



(Click on picture to enlarge!)