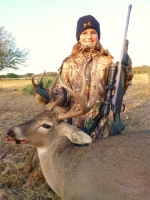 Rocky Woodford Outfitting has had the honor to hunt some of the greatest up and coming hunters in the United States. These "young guns" have been such a pleasure and we encourage our seasoned hunters to bring their children to experience all that hunting in West Texas has to offer. Seeing a lot of game holds their interest and gives them the opportunity to truly enjoy the outdoors sport of hunting.
A great hunt during their spring break from school for these young hunters is Spring Turkey or Texas Exotics.
These young hunters may enjoy hunting with their parent or choose to hunt with a guide. As they become skillful in their hunting, the degree of supervision during their hunt is the parent's decision. While safety is our 1st concern, we have young men that have hunted with us from age 6 and are now young adults. Their skill has grown with them and Rocky Woodford Outfitting is proud to have played a part in that growth. A concentrated effort is made to accomodate our 'young guns' special needs such as any diet requirements (usually hot dogs, chicken nuggets, and grilled cheese sandwiches). Youngsters have proven a joy to have in camp and are very welcome here.
(click on picture to enlarge)